Josh Hobbs - Austin, Texas
512-351-5762
Solar Window Screens - Pricing
Estimate your INSTALLED Solar Screen cost here . . it's EASY !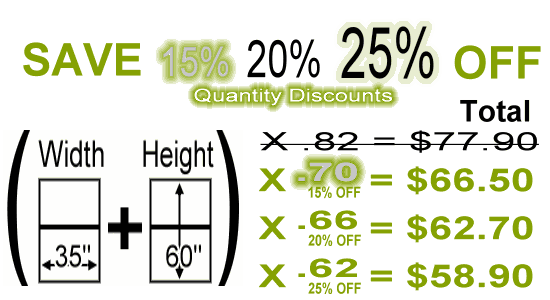 This is how I price a Solar Screen for a window.
My "Total" price includes Everything (Measuring, Assembly, Installation, and Sales-Tax).
​
To take advantage of my incredibly low installed solar screen pricing, all that I ask from you is that you calculate your own estimate. We can help with this of-course. We have made solar screen estimating very easy. Your estimate is strictly for you to get a quote, not for us to build our solar screens from. We will come to your house to get our own precise solar screen build measurements once you have started an order below with a $50 deposit.
For our DEEP 15%, 20% and 25% OFF Special Quantity Discounts, and to easily create your own estimate, please print our "Do it yourself Estimate Worksheet". As you'll see, our WorkSheet is very easy to use. All you need are the total Width and Height measurements in inches from all your windows added together and then multiplied by one of our Special Quantity Discounted prices. Because this WorkSheet is strictly for the purpose of providing you an estimate, your measurements do not need to be accurate, just close. Getting your estimate measurements is easy, you can do so from inside your home (rough measurements are all you need), there is no need for you to go outside. For a quick visual illustration, please watch the below How To Video. Tip : Most of your windows will be the same size.
2) and watch our quick How To video ↓
1.) Now that you have Estimated your cost using our estimate worksheet,
2.) and you have selected your Color Combination,
3.) you are ready to start an order.
Please select your Screen and Frame Color or choose Help Me Choose and Josh will make color recommendations.
Click the Buy Now button to initiate a $50 non-refundable deposit that will be deducted from your completed order.
You will then be taken to a page that will ask for measure instructions and will in detail explain the entire process to include Josh's current Residential route schedule.
Once we receive this deposit, we will within 24 hours email you the day Josh will shoot by your home to measure the windows. No one needs to be home when Josh comes by.
When he sees the home he will evaluate for color recommendations. And, he will evaluate the home using a compass to determine what windows he recommends to get the 90% fabric, and which windows to get the 80% fabric. On his recommendation sheet that he leaves behind will have all of these recommendations in order of preference.
Along with this thorough recommendation sheet, he will also leave fabric and frame samples in 80% and 90% for all of the recommendations that he makes. When you get home from work all of this will be waiting for you at your front door.
​
The next day we will email you an order which will in detail itemize everything, including the window measurements, what windows the order is for identified by side of home and size of screen that will be used. What windows will get the 80% and 90% fabrics. And an install date that will be for within 14 days -two weeks-. No one needs to be home for the installation. Josh never misses his installation dates, the date on the order is one you can 100% count on.
​
This non-refundable $50 measure deposit is deducted from the order we email you over, but not refundable if you do not put the order through. It is cancelable if done before the measure trip is performed.
& my Video Answer : My video answer explains how to get your residential solar screen order started.
We made ordering Solar Screens Hassle-Free and Easy !
Start your installed solar screen order Now!
VIDEO: Starting your order Questions ANSWERED here
↓ Watch this video to answer any questions you may have regarding starting your solar screen order. ↓
Question : Are there some solar screen projects that you won't take on ? If so, is the $50 deposit refundable
& Answer : Yes and Yes. While it is very rare, I would say about 1 out of every 200 projects. Occasionally we will come across that home or commercial building that have windows that are too difficult to get to or are simply not conducive for us to mount solar screens on. Such instances would be picture windows that are 10' wide by 7' tall, windows that require walking on wood, clay or cement shingled roofs, or windows that are beyond 30' in the air (like 3rd floor residential, commercial and loft buildings). We do not commit ourselves by means of the deposit. Final discretion is left up to us and if we choose to not take on your project we will by all means refund you the $50 deposit and discuss with you what we think some viable recommendations to you would be. If you have a situation like what we have described, please give us a call before you process the $50 deposit so that we can discuss your job first over the telephone. We can easily determine this by pictures texted or emailed to us from your mobile phone.
Start your order for my installed solar window screens here . . . easy as 1..2..3
Is the measure deposit refundable?
Putting solar screens on Doors
Installation Service Area
Help picking colors for solar screens.
Smallest solar screen job I will do
What windows need the solar screens
Understanding my Quantity Discounted pricing
Pricing compared to competitors