Josh Hobbs - Austin, Texas
512-351-5762
Question : If I have side-by-side windows (windows that are installed next to each other, fitted together), will you mount one solar screen over all of them, or will you build one solar screen for each window?
& Answer : We will build and install a solar screen for each window. Each window takes its own solar screen. In rare cases of non-opening windows like when there is a rectangular non-opening window with a ½ circle window above it, we can build one large solar screen to fit over the two of them together. Watch this video, as once you do, you will have a clear understanding of how we install our solar screens on side-by-side windows. If you have multiple side by side windows that you want one big solar screen for, you WILL lose bug protection. With one big screen, you will not be able to fit the screen framing flush around the windows, so you will get gapping, thus will lose bug protection.
& my Video Answer : Here my explanation of why solar screens will install on each window, not over multiple windows.
Solar Window Screens -

INSTALLATION

Q&A's
Solar screens for side by side windows
Question : Can a Solar Screen be installed on a Door ?
& Answer : Absolutely! Pictures A & B) For swing doors, we mount the solar screen within the molding of the window frame. Picture C) For a flat installed rate of $150 (if accompanied with a solar window screen order for your house) we can custom build you an aluminum-framed sliding solar screen door out of either our 80% or 90% fabric. We custom build our sliding solar screen doors specific to the measurements of your sliding door frame out of roll-formed Aluminum, not out of steel. The steel framing which is widely used will rust unlike that of the sturdy and heavy-duty aluminum framing that we use. Our cost to build doors out of this heavier duty aluminum framing is more, but it is worth it (aluminum will not rust). The framing we use is unlike anything you can buy off the shelf, it's very sturdy and heavy-duty. And, we of course can roll any of our six colors of fabrics within the frame. Optionally, if you would like to cover the non-opening portion of the door, we can build you a pocket (as shown in picture c). The pocket we will mount to the outside of your sliding door frame covering the non-opening panel. The solar screen door when in the open position will slide behind this pocket. The installed cost for the pocket is a flat rate of $150 as well. For the sliding screen door and the pocket both made out of the same heavy duty frame, rolled with either our 80% or 90% solar screen fabric, when accompanied with a 613" or over solar window screen order, is a minimal flat installed cost of $300 regardless of the sizes. If you do not have a need for solar window screens, and only want the sliding door and pocket, the installed cost of $300 will apply, however there is an added measuring and installation trip cost of $130. (Ex. If you want 1 pocket and door set, the cost will be $430, if you want 2 pocket and door sets the cost will be $730). You can buy to self install my sliding door screens from HobbsScreens.com.
& my Video Answer : Here me discuss installing solar screens for swing doors and sliding doors. How to shade a dorr from the sun.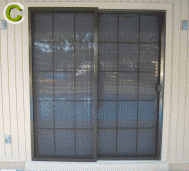 Question : How will you mount (install) our new solar screens? Are they removable? Can I take the screens off to wash my windows?
& Answer : Our screens are absolutely removable. Most often they are attached with small 3/4" self-tapping screws, look through the below pictures for illustrations. Some windows are made to hold full-sized screens, meaning they have a track at the top and bottom of the window designed to hold a full screen in place. If the window does not have this track, the screen gets attached to the outer part of the window frame using self-tapping screws. See the below pictures for detailed illustrations. For an extensive review of my MANY videos related to installing screens, visit my Josh Hobbs YouTube channel. If you remove the screens within the two-year warranty, the installation side of my warranty expires when the screens get removed.
& my Video Answer : My video answer explains the various ways my solar screens install on to windows.
Solar screens for bug protection
Question : Will solar screens keep the flying bugs out like my current insect screens do ?
& Answer : Absolutely, in fact the weave of our solar screen material is MUCH tighter than that of your current insect screen material. Keep in mind however that ALL bug screens are for flying insects, not crawling insects. Insect/bug window screens are to keep the flying bugs and insects out. Unless your screens are sealed with say a silicone all the way around the screens, crawling insects will always find a way through. This is the case for our solar screens and your current manufacturer's insect/bug screens.
Solar screens over old bug screens.
Question : Do the solar screens fit over our current insect window screens ? Or, do you remove our current insect screens before you install the new solar screens ?
& Answer : We do remove the insect screens before we install your new solar screens. The solar screens will take the place of your current insect screens. . More and more today we are seeing windows that require the bug screens to be taken out from the inside. If this is the case for your type of windows, we will leave the bug screens installed within the windows for you to remove. You can remove them before we get to your home, or after the solar screens have been installed.
Question : Do I need to put solar screens on all of my windows? Can I just put a solar screen here and there as I need it? What will it look like if I have windows with solar screens and others without? Will my home look weird if I have some solar screens on some windows and not others?
& Answer : I strongly recommend that you DO NOT put a screen here and there for aesthetic reasons. You do not want a side of your home to look unfinished. So, if you want screens for the front of your home, I recommend you put them on all the windows for the front of your home, not just here and there. The back of the home you can cheat, as the back is not visible from the street. The following pictures will help you see what it looks like to leave windows uncovered. And visit my extensive post that thoroughly goes over installing solar screens on some windows but not all.
& my Video Answer : Watch and hear my video explanation of why you should not leave windows uncovered. Why you should shade all windows.
solar screens not on all windows examples